Offshore wind energy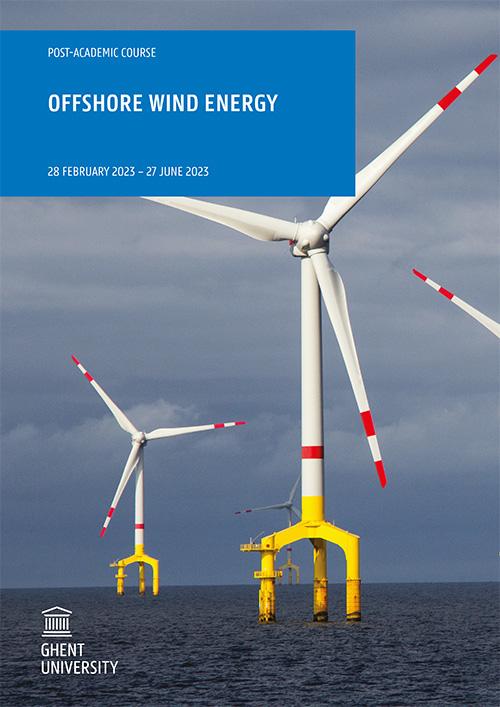 28 February 2023 – 27 June 2023
Catch the wave of offshore wind & acquire a broad knowledge from a technological and multidisciplinary perspective.
Offshore wind energy has developed rapidly in Belgium & Europe. The industrial scaling is a fact and the production cost is evolving to a cost-competitive source in our energy mix. Belgium is currently the 4th country worldwide in terms of installed capacity, and the best is yet to come.
This course was conceived to offer thorough expertise and operational knowledge of all phases of offshore wind energy. Course attendees will acquire a broad and up-to-date knowledge regarding technology, financing, safety, security, ecology & boundary conditions of offshore wind farms over the entire lifespan.
The course is divided into 6 modules: after a qualitative description in the first module, module 2 provides a technological basis for the wind power production and conversions "from wind to wire". Modules 3 focuses on structural aspects, in particular offshore foundations . The fourth module covers various aspects with respect to electrical components (such as transformers), testing and validation, weather prediction and resource assessment, etc. Module 5 deals with non-technological topics such as financing, environmental impact and mitigation and legal framework. The last module combines a prospection beyond the horizon into current and future R&D and innovation in offshore wind) and industry cases.
After completion, course participants will have a broad offshore knowledge, both from an international perspective as from the viewpoint of the strengths of the Belgian offshore wind industry and academia.


This course is targeted towards people working in (or with the ambition to be working in) or researching the offshore wind, power or maritime sector. A bachelor level (or equivalent through minimal 2 year relevant working experience) is obligatory.
A master level in science, engineering, economics or law is recommended (or equivalent through minimal 2 year relevant working experience) and obligatory for module 3.
To receive a certificate, one should attend at least modules 2-3-4-5 and succeed for the final exam.
Participants attending 1 or more modules can obtain a certificate of attendance.

Scientific Coordination
Prof. Lieven Vandevelde, Department of Electromechanical, Systems and Metal Engineering, Ghent University.
Teachers
Claude Abiven, Tractebel
Baert Ruben, GeoXYZ
Bauer Ralf, Norther
Beilan Tyson, DEME
Boon Tine, Tractebel
Bluekens Jorne, Parkwind
Brazão João, Jan De Nul
Ceyhan Yilmaz Ozlem, Sirris
Chellingsworth Thomas, Loyens & Loeff
De Belie Frederik, Ghent University
De Busscher Christophe, Omcon
De Roo Rob, VIVES - VLOC
De Vos Kristof, Elia
De Waele Wim, Ghent University
Declercq Jan, Slimenergy
Degraer Steven, KBIN
Degroote Joris, Ghent University
Derudder Bert, KBC
Devriendt Christof, VUB
Dewaele Ronny, E-bo Enterprises
Dhaene Christophe, e-Bo Enterprises
Fauconnier Dieter, Ghent University
Finé Eric, Smulders
Geerinck Pascal, Tractebel
Goethals Angelo, Ghent University
Goris Sonja, ZF Wind Power
Heiremans Carl, Jan De Nul
Helsen Jan, VUB
Hemelsoet Karen, Ghent Unversity
Huyghebaert Yannick, Parkwind
Jordaens Pieter Jan, Sirris
Lahaye Filip, Otary
Lammertyn Kevin, Otary
Lataire Evert, Ghent University
Maes Frank, Ghent University
Magnus Dirk, C-Power
Mathys Mieke, IMDC
Monballieu Jef, Jan De Nul
Noppe Lieselot, GeoXYZ
Rabaut Dieter, DEME
Saidi Mazarou Nordine , Ocean Winds
Schyvens Tim, Elia
Smet Geert, KMI
Steensels Marc, Otary
Streicher Maximilian, Ghent University
Stroobandt An, Kabinet Minister Tinne Van der Straeten
Stuyts Bruno, Ghent University
Tavallali Abbas, IMDC
Troch Peter, Ghent University
Vallée François, Université Mons
Van Cauwenberghe Peter, Rely on Nutec
Van Hertem Dirk, KULeuven
Van Lambalgen Raoul, Otary
van Loon Kristof, DEME Concessions
Van Nuffel Margot, Otary
Van Paepegem Wim, Ghent University
Van Valckenborg Jef, Parkwind
Vanden Haute Cedric, Elicio
Vandendriessche Frederik, Ghent University
Vandevelde Lieven, Ghent University
Vannieuwenhuyse Kenneth, DEME
Vereycken Paco, Engie
Jochem Vermeir, Parkwind
Vermylen Marc, Loyens & Loeff
Programme
This module provides the terminology, phases and processes of offshore wind energy, and allows the students to get acquainted with the correct terminology. After the qualitative description of the components, the project life cycle (from tendering to decommissioning) is outlined. The procedures and terminology in offshore wind installation are described. Lastly, the in-service terminology (during the Operations & Maintenance) is provided.
Introduction to offshore wind packages: WTG & substructures
Introduction to offshore wind packages: Cables & OHVS
Introduction to electrical power systems - grid transmission
Project installation: offshore wind installation (terminology & procedures)
ABC of offshore wind financing (project financing perspective)
Technical development: design basis – basic design – detailed design cycle
Tendering & basic engineering
Corporate & contractual set-up
O&M terminology
Concepts introduced in module 1 will be used in the other modules.
Teachers:
Lieven Vandevelde, Raoul Van Lambalgen, Carl Heiremans , Dieter Rabaut, Margot Van Nuffel, Ralf Bauer, Filip Lahayen, Nordine Saidi Mazarou, Abbas Tavallali, Kristof van Loon, Christophe De Busscher
Date:
28 February, 7 & 14 March 2023
This module describes the wind power production and conversions up to the grid connection and integration, i.e. "from wind to wire". Herein the components (turbine blades, generators, offshore grid, etc.) are discussed in detail.
WTG Package: Aerodynamics introduction & FSI (blades)
Blades: blade build-up, design, modelling
LEE & evolutions in blades
Intro to offshore grids
WTG Package: Generator systems in offshore wind
WTG package: park owners' perspective
Reliability of Gearboxes in wind turbines
Drivetrain developments: servitization, modularization, torque density
Wind Turbine drivetrain design from a loads perspective
Electrical Package: transmission & conversion: OHVS, HVDC vs AC, transmission
Electrical Package: Network concepts: OHVS equipment & lay-out, grid connection, SMD infrastructure, grid code)
Offshore wind integration: TSO perspective
Offshore adequacy
Energy markets & ancillary services, role of PPA
Teachers:
Joris Degroote, Wim Van Paepegem, Ozlem Ceyhan Yilmaz, Lieven Vandevelde, Frederik De Belie, Yannick Huyghebaert, Dieter Fauconnier, Sonja Goris, Jan Helsen, Dirk Van Hertem, Marc Steensels, Kristof De Vos, François Vallée, Paco Vereycken
Date:
21 & 28 March, 18 & 25 April 2023
This module focuses on structural aspects and offshore foundations in particular, e.g. wave-structure interactions, geotechnical and material aspects, floating structures, etc.
Hydrodynamics: wave theory and wave structure interaction
Hydrodynamics: wave structure interaction : load impact
Geophysical & Geotechnical survey
Offshore geotechnics: soil-structure interaction & offshore site characterisation
Possibilities and challenges of floating offshore wind installations
BOP package: floating offshore wind turbine foundations
Behaviours of floating structures w.r.t. multi-use applications
Bottom impact and semi-floating phase of a wind installation jack-up / floating installation
Floating vessel Installation
BOP Package: Introduction into offshore foundations, load cases and their design
Foundations: Design assumptions
Substructures design in practice
Metals: damage & lifetime
Design for manufacturability, logistics, O&M & decom
Teachers:
Peter Troch, Maximilian Streicher, Ruben Baert, Lieselot Noppe, Bruno Stuyts, Karen Hemelsoet, Evert Lataire, João Brazão, Kenneth Vannieuwenhuyse, Christof Devriendt, Cedric Vanden Haute, Wim De Waele, Eric Finé
Date:
2, 9 & 16 May 2023
In this module, some electrical components such as transformers are discussed in more detail. Other topics include wind farm monitoring, testing and validation of components, weather prediction and resource assessment.
Wind farm performance monitoring
Introduction to O&M: Data Driven strategies & implementation for O&M
Challenges for offshore wind components : dynamics on transformers & case study
Introduction to monitoring: Offshore wind ICT integration
Resource assesment, AEP, Wake, lidar
Unmanned Aerial Vehicles in offshore wind context: legal context & applications
Weather prediction for wind energy applications
Importance of testing & validation during wind turbine development and construction
Teachers:
Claude Abiven, Jef Van Valckenborg, Jan Declercq, Jorne Bluekens, Ronny Dewaele, Pieter Jan Jordaens, Rob De Roo, Geert Smet
Date:
23 & 30 May 2023
The project development requires a wide range of activities preceding the installation, such as project financing, tendering and consenting, environmental impact assessment and mitigation strategies, etc. Furthermore offshore wind energy is developed in a context of international and federal marine spatial planning, energy law (like the grid code) and the wholesale market mechanisms.
Introduction & Maritime Law
Introduction into (offshore) energy legislation and cross boundary transmission aspects
Project financing & development (legal counsil perspective)
Project financing & development (lenders perspective)
Operational & functional safety (perspective from an asset operator)
Operational & functional safety (safety, survival, skills training for offshore wind)
Offshore wind farm environmental impacts: promoting the good and mitigating the bad
Environmental permit & impact assessment
Teachers:
Frank Maes, Frederik Vandendriessche, Angelo Goethals, Marc Vermylen, Thomas Chellingsworth, Bert Derudder, Pascal Geerinck, Peter Van Cauwenberghe, Steven Degraer, Mieke Mathys
Data:
6 & 13 June 2023
This module looks beyond the horizon of offshore wind, including (future) policy, technological solutions on the component level, industrial scaling, R&D and innovation at different companies and future grid coupling.
Belgian offshore wind policy: beyond the horizon
Innovation in the offshore wind sector
Offshore innovation at Jan De Nul
Innovation in marine construction operations at DEME
Offshore innovation at Tractebel
Belgian Offshore cluster & Innovation at e-BO enterprises
Technology - R&D&I at Parkwind
Transition from Belgian Offshore towards upcoming worldwide Floating market
R&D & Innovation at Otary
R&D & Innovation at C-Power
Future grid coupling: MOG2 / Energy Island
Teachers:
Pieter Jan Jordaens, Jef Monballieu, Tyson Beilan, Tine Boon, Christophe Dhaene, Jochem Vermeir, An Stroobandt, Cedric Vanden Haute, Kevin Lammertyn, Tim Schyvens
Data:
20 & 27 June 2023
Practical information
The fee includes the tuition fee, course notes, soft drinks, coffee and sandwiches.
Payment occurs after reception of the invoice.
All invoices are due in thirty days. All fees are exempt from VAT.

€ 905




Module 2
From wind to wire: electricity



€ 1.235




Module 3
Offshore foundations



€ 990




Module 4
Electrical components, monitoring, performance, testing, wind & wakes



€ 660




Module 5
Legal, environmental, financial & safety aspects



€ 660




Module 6
Innovation and future trends



€ 660





€ 4.600



Reduction
When a participant of a company subscribes for the complete course, a reduction of 20% is given to all additional subscriptions from the same company, even on single modules. In that case only one invoice is issued per company
Special prices for doctoral students and Ghent University staff. For further information, please send us an email.
Reductions can't be combined.
Cancellation policy
When cancelling up to 7 days before the start of the course 25% of the participation fee will be charged.
When cancelling less than 7 days before the start of the course, the full fee is due.
Training vouchers
Ghent University accepts payments by KMO-portefeuille (authorisation ID: DV.O103194): www.kmo-portefeuille.be

Opleidingsverlof (VOV)
Deze opleiding is erkend in het kader van VOV. Klik
hier
voor meer info.
Klik
hier
om alle voorwaarden te raadplegen.