Blue Science and Technology Summer Training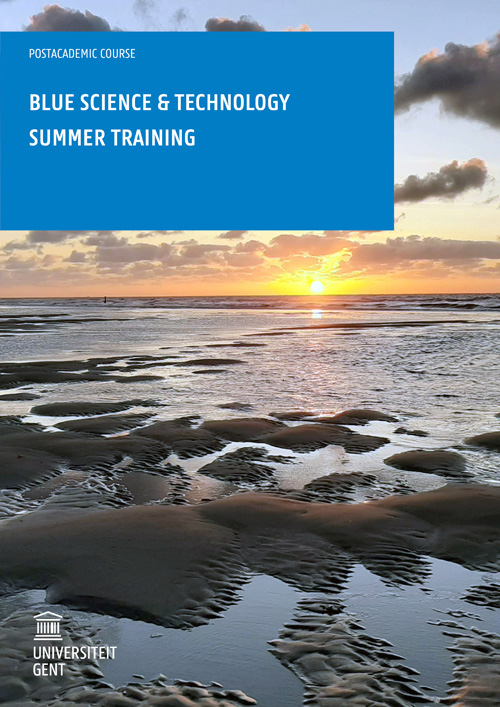 3 – 14 July 2023
A Master or PhD student in engineering, bio-engineering, geography, or marine biology?
Passionate about exploring the challenging role of oceans and seas in our future society?
Excited about marine and maritime sciences, business development & entrepreneurship?
Fascinated by looking across varied disciplines?
Up for fun with international students in the heart of the blue valley at the coastal city of Ostend?
Then, join the sixt edition of the Blue Science and Technology Summer Training!

Register here

Sustainable use of ocean resources, referred to as Blue Economy, has to deal with several societal challenges, such as food security, human health and climate change. Coastal areas worldwide are among the most densely populated, but most vulnerable to the impacts of human- and climate-induced changes. Innovative inter- and multidisciplinary solutions are required to mitigate these urgent social challenges while simultaneously providing crucial ecosystem services that (in)directly affect people (e.g. storing carbon, controlling floods, stabilising shorelines, provision of clean air and water, food, fuel, medicines).
The BLUES&T Seasonal School will tackle these major (global) societal challenges from an inter- and multidisciplinary perspective. We combine academic lectures from top researchers from different (inter-) national knowledge institutions active in the several Blue Economy domains, with seminars provided by European and national policy-makers as well as private companies with an established value in their sector, and practical experience. As such, BlueS&T participants gain first hand insight in the process of designing, launching and running offshore businesses by leading experts in the field. Providing both academic as well as a range of soft, transferable skills.

Participants from diverse disciplinary backgrounds will be admitted:
Passionate about exploring the challenging role of oceans and seas in our future society
Excited about marine and maritime sciences, business development and entrepreneurship

To receive a certificate of this microcredential , one should attend all the lessons and succeed for the final groupwork. This microcredential obtains 3 credits
Scientific Coordination
Prof. Jana Asselman, Department of Animal Sciences and Aquatic Ecology, Ghent University

The themes of Summer Training sessions are mostly related to the 5 priorities of blue economy as relevant for the entire region, i.e. the EU countries as well as non-EU-countries. Themes will include, but are not limited to:
Blue economy in the EU (governance and finance)
Healthy oceans
Ecosystem services
Sustainable seafood
Coastal engineering and Building with Nature
Marine spatial planning
Maritime transport
Bioprospecting
Deep sea exploration and mining
Social innovation
Entrepreneurship
The BlueS&T will close the mismatch between knowledge academic sciences and the job requirements for Blue economy's staff by combining
ex-cathedra lectures
on specific scientific subject with
hands-on practicals,
multidisciplinary
workshops
and
on-site visits
. Thanks to the collaboration with the marine research institutes in Zeeland, The Netherlands, you will be submerged in the worlds of offshore sustainable seafood, Building with Nature and learn the concept of social innovation through a practical workshop. Students enjoy ex-cathedra lectures (about 50%) where leading academics devote their full attention. A mix is provided of (inter-)national lectures from amongst others Ghent University, VLIZ, KU Leuven, VUB, HZ University of Applied Sciences, NIOZ, Wageningen University and Research, and various international partners of the EPIBOOST consortium like University of Aveiro (Portugal) and
the 3i University Network
like University of Lille and Kent.

Practical info
The Summer School is recognized as specialist course by the (Bioscience) Engineering and Natural Sciences Doctoral Schools of Ghent University as well as the KULeuven Arenberg Doctoral Schools. As such, for PhD students who are a member of these doctoral schools, the course is free and will be added to the curriculum by the Doctoral Schools administration after successful completion.
If you have followed the postgraduate Blue resources, you can join for free.
If you are member of EPIBOOST project, you can join for free.
This includes:
Tuition and all course material
On-site visits and excursions
Certification
Lunch, coffee breaks and two social dinners
Transport from/to Zeeland and accommodation, breakfast included
Not included:
Personal expenses
Transport from/to home location to Belgium
Other meals than listed above
Other overnight stays than listed above, 10 in total
Insurance
Date: 3-14 July 2023
Location : Ghent University and Ostend Science Park, Ostend, Belgium
Language
English is used in all presentations and documentation
Registration
All students will be asked to provide a short motivation (1 page) and their CV (1 page), which will then be evaluated by the organizing committee. If your application was successful, you are accepted & you can enrol for this summer school.