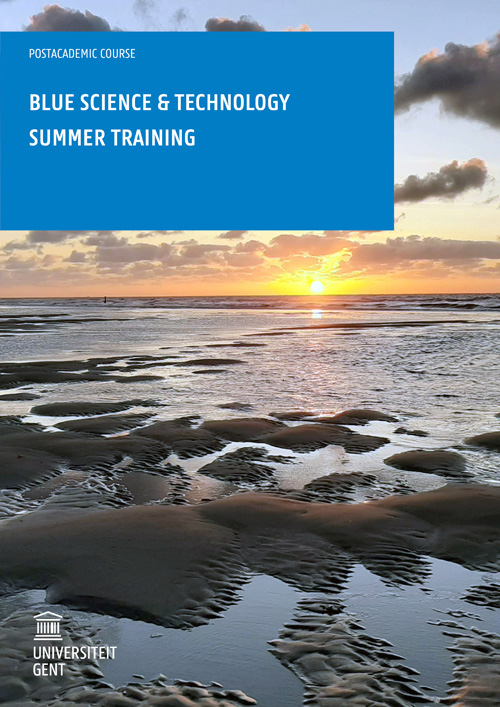 Blue Science Summerschool
3-14 July 2023, Ostend
The objective of this Seasonal School is to offer an add-on learning opportunity for participants with a mainly scientific background to be prepared for the rapidly evolving demands of the blue economy sector. During the program students will:
Obtain insight in upscaling of scientific knowledge and expertise to the business world and market and the commercial realities faced by industry, through guest lectures from blue economy entrepreneurs and on-site visits
Gain knowledge about the social and sustainable challenges faced by companies and governements in blue economy sectors.
Acquire advanced scientific problem-solving skills, design multidisciplinary approaches and collect, analyse and interpret data.
Learn to work, synthesise, report and argue in a group assignment that requires participants to balance economic, social and economic impacts of human activities at sea.
Be competent to further develop a network in an international and multidisciplinary context and apply it in an integrated problem-solving character.
Be able to communicate with peers, with various stakeholders in blue economy field, and with a general public concerning scientific concepts and research. Among others via the oral presentation of the group assignment.
Program
Sustainability assessment including ecosystem services, risk assessment and life cycle assessment
Oceans and human health both physical and mental health
legal framework on multi-use at sea, law of the sea, Nayoga protocol as well as the Marine Strategy Framework Directive
Blue Biotechnology (incl data mining, prospecting bioactive compounds, industrial applications)
sustainable food production at sea from sea to fork (incl certification, upscaling of business, etc)
Social innovation and communication skills
Nature based solutions for coastal protection
Physical modelling in coastal and offshore engineering
Fill in the form below and we will inform you as soon as possible after registration opens.
Info form